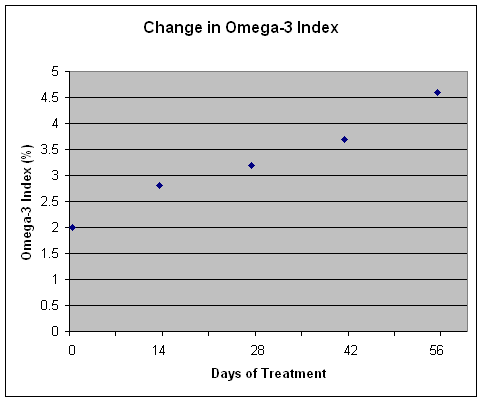 The omega-3 index is a reliable diagnostic tool that presents the combined EPA and DHA concentration as a percentage of total fatty acids in red blood cells.
The graph shows that 14 human participants in this study started out with an average omega-3 index of 2.0, a relatively low value. After 8 weeks with daily intake of 2 gm Biom3ga™ Krill Oil, the average index increased 125% to 4.5. An increase of 45% in the omega-3 index was seen after the first 2 weeks. These observations verify that the omega-3 from Biom3ga™ Krill Oil is taken up from the gut to the blood stream and that it is incorporated into cells.
Omega-3 Index reflects effect of individual's omega-3 supplements
Due to the role of omega-3 in reducing the risk of CVD, greater dietary intake of omega-3 is recommended.
The Omega-3 Index, a diagnostic tool, can provide feedback on an individual's omega-3 supplement dosage. The Index was developed to provide a routine clinical assessment of the risk of dying from a cardiovascular event. By recording the percentage concentration of omega-3 in red blood cells, the Omega-3 Index provides a useful indication of a person's long-term ingestion of omega-3. Because the Omega-3 Index reflects the incorporation of omega-3 in cell membranes, which provides beneficial CVD effects, the Index is suggested to correlate with both CVD risk and the body's omega-3 status.
A subject's Omega-3 Index is determined from a blood droplet drawn from a fingertip. Test results >8% are desirable. Use of supplements rich in omega-3 phospholipids can increase individual's Omega-3 Index, which indicates the lowering of cardiovascular risk.

Source
Harris WS. The omega-3 index as a risk factor for coronary heart disease. Am J Clin Nutr. 2008; 87 (6): 1997 – 2002.
Key concepts: krill oil, omega-3 index